The A1 Harpy is the first Aerial unit that can be unlocked after upgrading the war factory to level 3.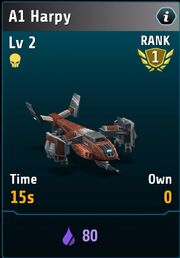 Advantages
Edit
Disadvantages
Edit
Low health compared to the T1 Python.
Missile launchers and other base defenses are able to kill these units with little or no problems.
Ad blocker interference detected!
Wikia is a free-to-use site that makes money from advertising. We have a modified experience for viewers using ad blockers

Wikia is not accessible if you've made further modifications. Remove the custom ad blocker rule(s) and the page will load as expected.